Rivalry review – eSports betting Bonuses and options overview
Rivalry esports betting platform is one among many in the industry, however, it is able to shine through all of the competition by being more in-tune with the games and the options it offers to players. Rivalry is a proud sponsor of Fnatic, a team of many eSports games. The company is also regulated by the Isle of Man Gambling Supervision Commission (GSC), under the Online Gambling Act of 2001 jurisdiction. Rivalry has been active in the industry for well over a year now and has reached quite the heights.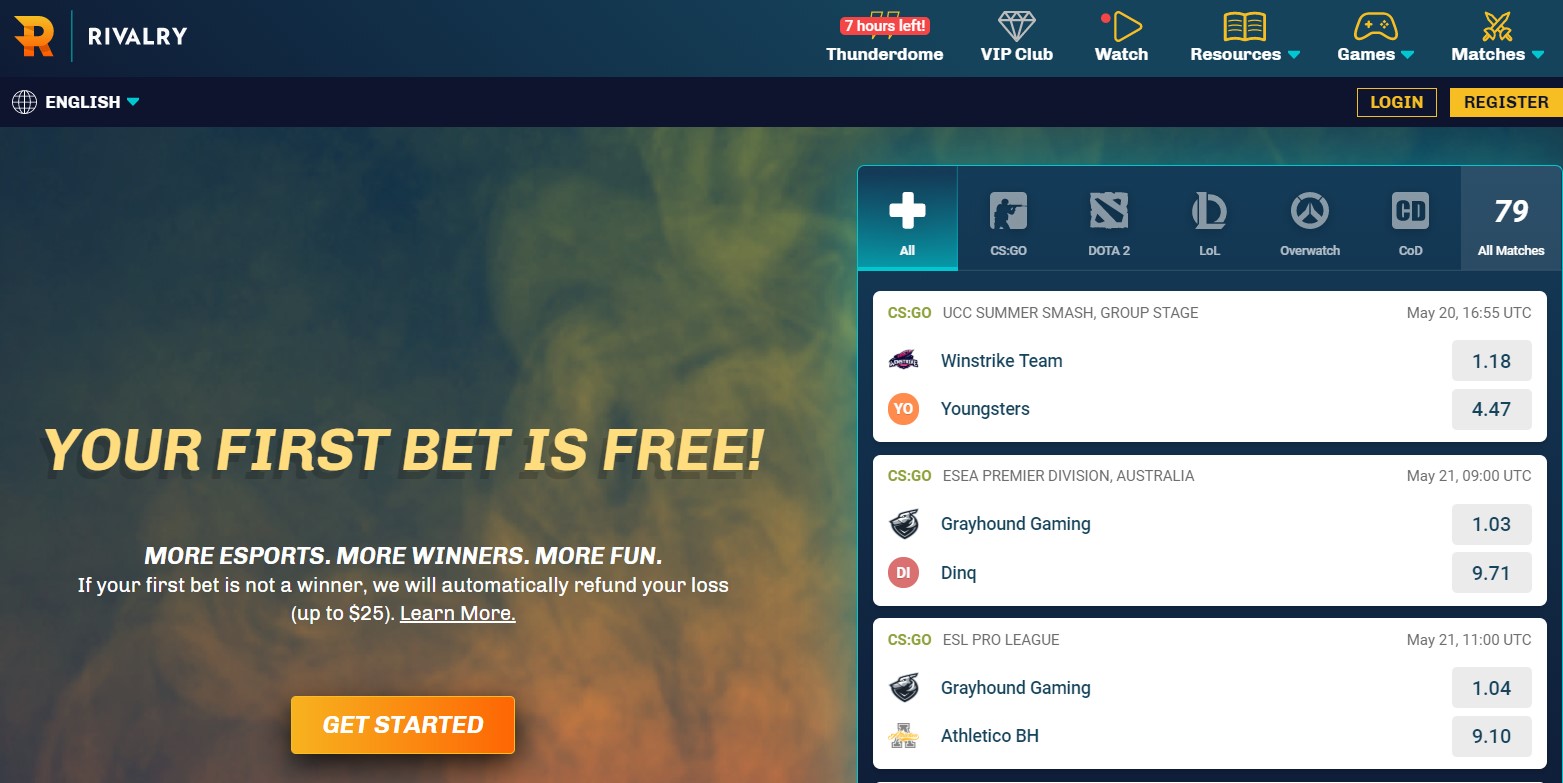 Users can expect eSports, and only eSports betting on 7 different games with the operator. Rivalry offers multiple benefits to its users such as bonuses on first bets and various educational materials for beginners willing to start. Overall, the feeling we got from this Rivalry review is quite positive, due to the security and general helpfulness of the staff. Let's get into more details.
Is it safe to bet on Rivalry?
The moment we got on the Rivalry sportsbook website, we immediately noticed that they have an SSL (Secure Sockets Layer) certificate, which immediately brings a lot of trustworthiness to the table. In fact, it is impossible for Rivalry to be dangerous at this point. However, the company doubles down on showcasing their registration numbers and location.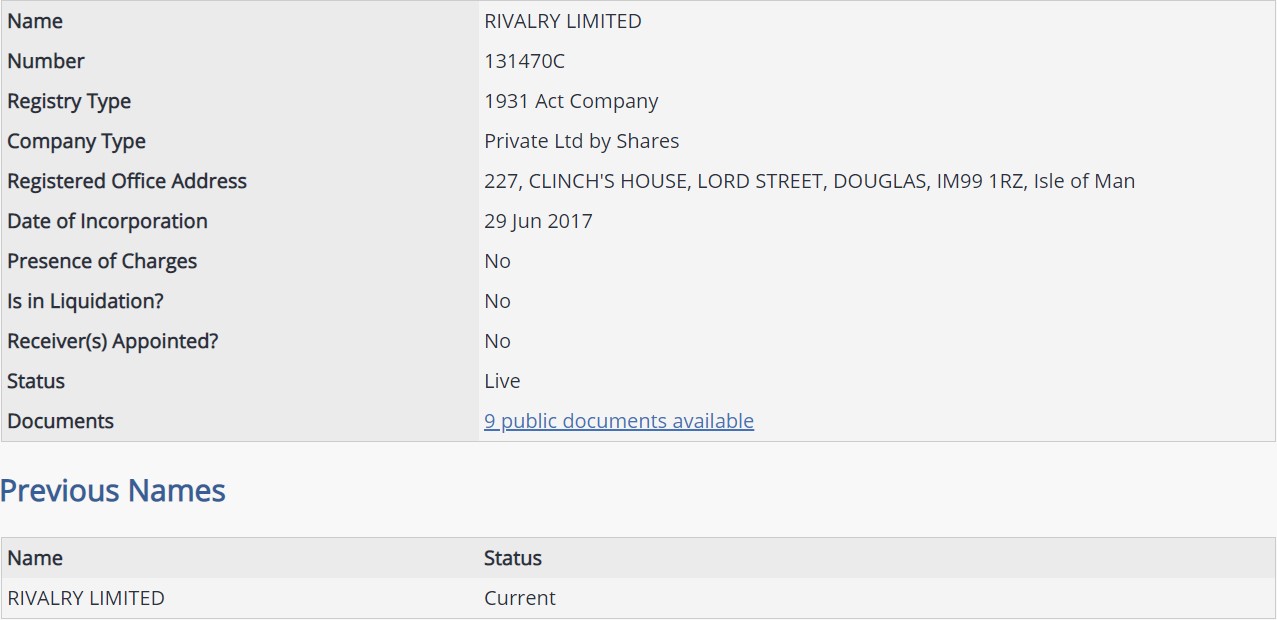 Rivalry is currently being regulated by the Isle of Man GSC and has been holding a license since 29th of June 2017. Although it may sound like not too long ago, it's still apparent that the operator put some effort into ensuring security on their platform.
The company can be easily searched on the GSC website, which we naturally did. The search confirmed that the Rivalry betting operator is indeed legit.
Rivalry games and available matches
Unlike many other eSports betting websites, Rivalry is a completely eSports-focused betting platform. There are no traditional sports to be found on the website, which is somewhat a relief, as adding irrelevant sections sometimes clogs the platform to a point that using its main service becomes impossible, due to server strain.
It was a breath of fresh air for us when conducting our Rivalry review when we couldn't find any Football or Basketball bets. The website is eSports exclusive, and features just 7 games:
Although it may seem like the platform is lacking in games, it is still beneficial to have only the most popular games available to bet on. Rivalry betting options are limited for a reason, and that reason is to keep the user focused on one game at a time, rather than diversify in too many and lose track of everything. Furthermore, the betting options and odds on Rivalry are industry standard, which means that even 1 bet can be more than enough to satisfy a user's needs.
Betting options and odds on Rivalry
The odds of Rivalry are quite user-friendly. For example, if you'd find odds as low as 2.0 on an underdog in a CS: GO tournament, Rivalry offers odds sometimes as high as 4.4, which means that even the smallest betters can make at least something out of their bet if they are lucky.
The lowest odds we were able to find was 1.09, but that's basically a guaranteed win, due to matchmaking, therefore the platform needs to protect itself somehow as well.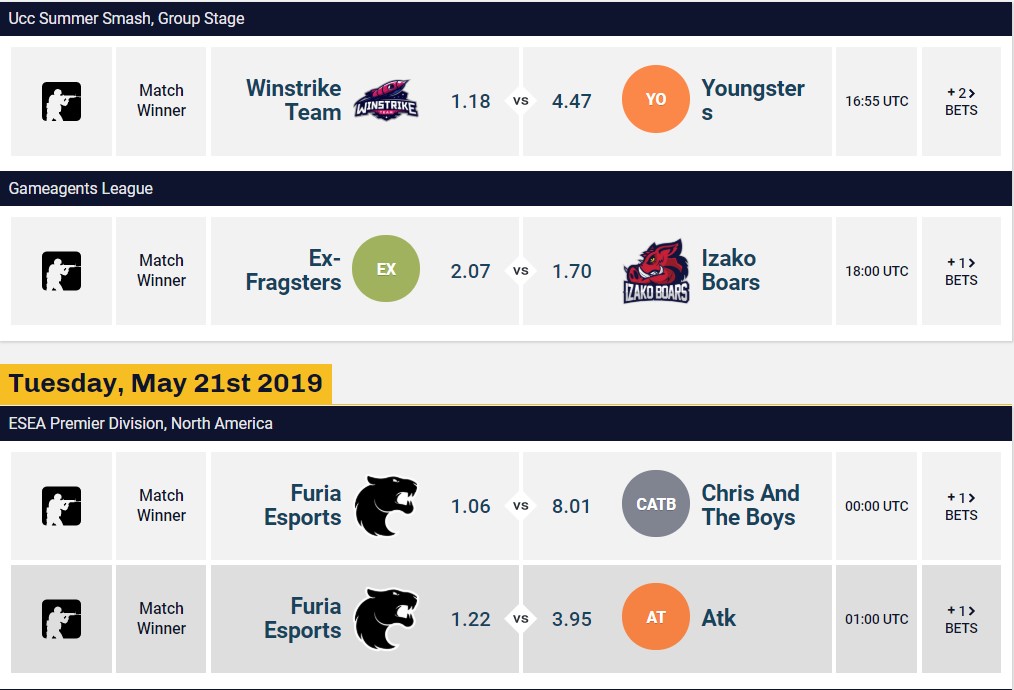 What we did find quite amusing was the Rivalry parlay system. Basically, the platform allows its users to bet on two matches at the same time. If both of those bets are successful, then the player gets a much bigger payout. For example, if you're betting on Fnatic vs Virtus.pro and Fnatic's odds of winning is 1.1 you get $10 if you bet $100. However, if you bet on that match and another one on Ninjas in Pyjamas vs Optic Gaming with a similar odds of 1.1 on NiP, then you get an increase on both odds to about 1.3.
Naturally, all must go according to plan, in order for you to benefit from those odds, but the risk is higher as well as you have the potential to lose all of your bet. High risk, high rewards basically.
Payment options on the platform
Payment options are one of the most important aspects of a betting website, especially an eSports oriented one. The more options there are the safer it is to play there. It's safe to say that Rivalry payment options cover that segment with flying colours by providing a whopping 15 payment options on their platform:
Visa
Visa Electron
MasterCard
Maestro
Neteller
Skrill
Paysafe
WebMoney
Sofort
Trustly
Yandex Money
Bank Transfer
AstroPay
Much Better
Safety Pay
The maximum deposit that one receives right after registering is $100, but that can be changed by verifying one's account by providing personal information like an ID card.
The minimum bets that can be placed are $0.50 and the maximum is $500. Therefore there is quite a lot of variation. And it's also good to see that the Rivalry free bet bonus is present on the platform. Pair that up with the minimum deposit and you've got a very safe environment for a complete beginner.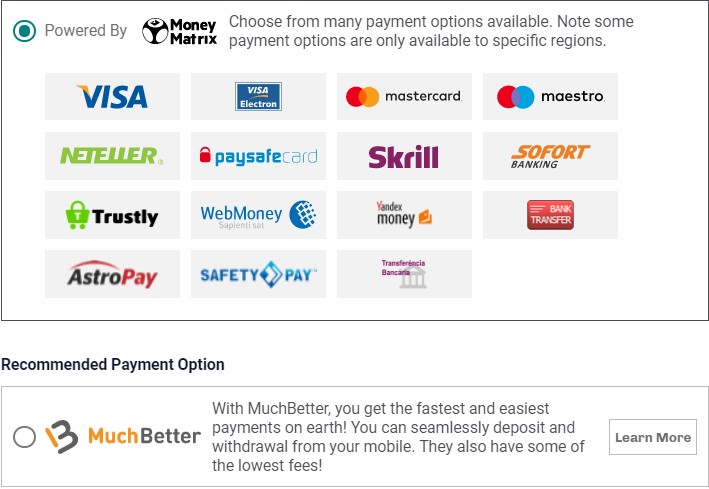 Unfortunately, withdrawals are prohibited to users that have not verified their identity. We were not able to find out the maximum withdrawal amount, however, the minimum is $5. It is quite inconvenient that our Rivalry review had to be stopped by something simple as an identity check, but it's understandable from the company to ensure customer safety and uphold money laundering laws.
What did this Rivalry review find out?
Let's list down all of the features that Rivalry has so that it is clearly seen how beneficial it may be for a beginner to start playing there.
SSL verification and a legitimate regulatory license on the Isle of Man
Accessible educational material for beginners
Easy-to-access platform due to deposits as low as $15
Esports focused platform, no traditional sports to be found
7 games to bet on which is more than enough, due to the game popularity
More than 15 deposit options, with additional safety thanks to ID verification
Rivalry free bet bonus offer for beginners on their first bet
Overall, Rivalry is a very strong contender for being named as one of the best eSports betting websites. They are are the perfect example of industry standards.