ArcaneBet Review With Odds, Bonus Codes and Betting Options
ArcaneBet is an online eSports betting website with well over 10 games on offer. The operator is registered and licensed in Curacao and offers its, users, a plethora of gambling choices. In this ArcaneBet review, we try to dig in deep inside the website's deepest and darkest secrets to find out if there is something to hide, or if the platform is as good as it seems from the first impressions. The main points will be to find out their legality of operations, the games they offer and if they are a good contender with their industry standard odds and game options.
Overall, the eSports betting industry is relatively hard to operate. Based on the fact that most eSports spectators, as well as players, are underage, it gets very hard to filter through the audience. We always appreciate when a gambling platform doubles down on the "no underage customer" policy and ArcaneBet has shown to do exactly that. By providing an extensive registration process accompanies by even more detailed authentication, the operator is able to stay within the borders of global law. Let's look at their legal documentation.
Can ArcaneBet be trusted?
As already mentioned the gambling operators are located and regulated in Curacao, which is usually a very popular destination for these types of companies, due to forgiving tax laws and relatively cheap prices to operate.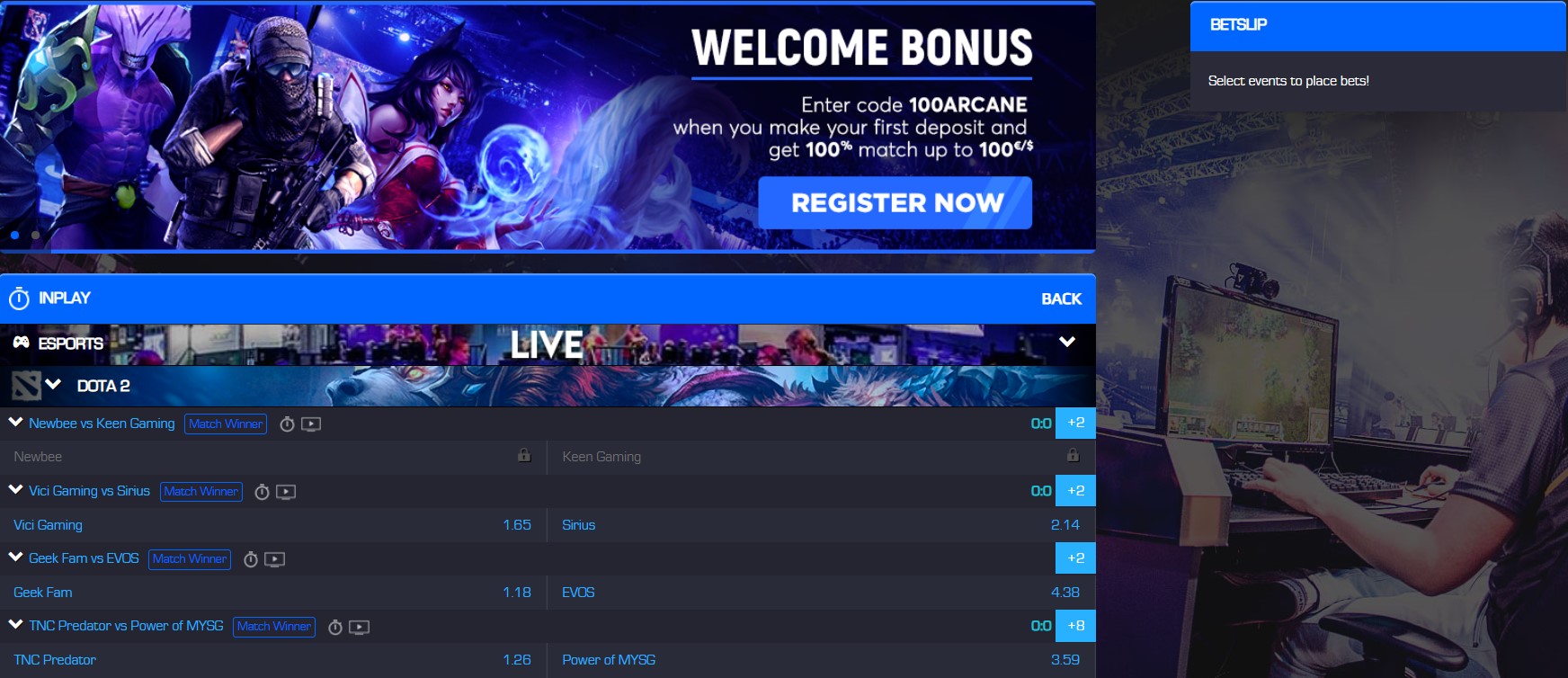 Although it may seem quite dubious for many players as to why the company would not commit to a Malta regulation, it's still safe to consider the company as legit. As long as the legal documentation is in order, any gambling company located in Curacao has the permission to cater to pretty much the global market.
However, there are some countries that do not belong to the legally serviceable list. They include Aruba, Belize, Bonaire, Curaçao, France, Netherlands, Saba, Statia, St Martin, USA.
While conducting our ArcaneBet review, we wanted to make sure that the license number was legitimate. Fortunately, the license is still active, and you can check it yourself with the number #365/JAZ.  The customer support was also very quick, with both the email and the in-built chat. The chat took about 15 minutes to respond, while the email took around 1 business day which is quite common with any service company.
ArcaneBet betting options & odds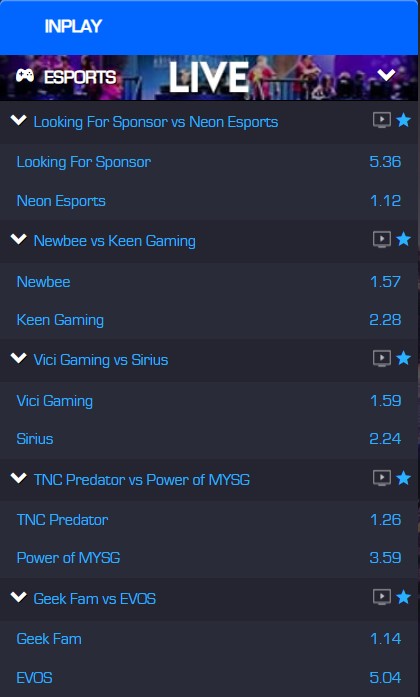 The betting options with ArcaneBet are not the most extensive ones a gambler may expect from an online operator. Our thorough search came up with basic bets on who is going to win a match, on pretty much every game available on the platform.
Although this may sound like a disadvantage, it is a very good way to streamline the users' experience when on the platform. They will not have to focus on too much information during a game and just enjoy watching it without too much stress. Having the bet on just who's going to win is a good way to keep things simple as well as provide the most value with the ArcaneBet no deposit bonus feature. This will not only make the bonus much more centralized but the player themselves very choosy on what they place it on.
Although a little more variety would be great. For games such as CS: GO there are always options to bet on which team will win the first half, but considering that it's usually one-sided, it would have been unfair. Offering bets on just who's going to win is much more fair for the betters.
ArcaneBet odds
Most of the games available on ArcaneBet have odds higher than 1.60, however, it's not uncommon to see the most popular ones such as LoL and CS: GO have odds as high as 3.65.
Overall, the operator provides multiple opportunities for people to place risk-free as well as risk heavy bets. Most underdogs can sometimes have odds as high as 4.0.
Games available on ArcaneBet

Currently, there are 15 eSports games available on the website alongside traditional sports, which have a lot wider margin of options. However, the operator did a great job of covering literally every eSports game which is popular all over the world. Depending on what game you are focusing on, the ArcaneBet bonus code will also be different, as the operator likes to diversify their clientele. Seeing how many games are available nearly every day, it's understandable why the segmentation is useful for both parties. Overall, these are the games you can find on the website:
Magic the Gathering
Call of Duty
NBA
FIFA
MADDEN
Rainbow Six Siege
Warcraft III
Starcraft
King Of Glory
Despite such a wide-ranging pool of eSports games, the platform believed that touch of traditional sports would also be quite beneficial for the platform. The ArcaneBet game library rivals some of the largest gambling operators in the industry today. It's obvious that if any game ever becomes a popular eSport, ArcaneBet will be there to swoop it up. The traditional sports list consists of:
Football
Basketball
Tennis
Ice Hockey
This is actually one of the only cases where we've seen an eSports gambling website features more eSports games than traditional sports games. Good to see that ArcaneBet is sticking to its main audience.
Payment options on the platform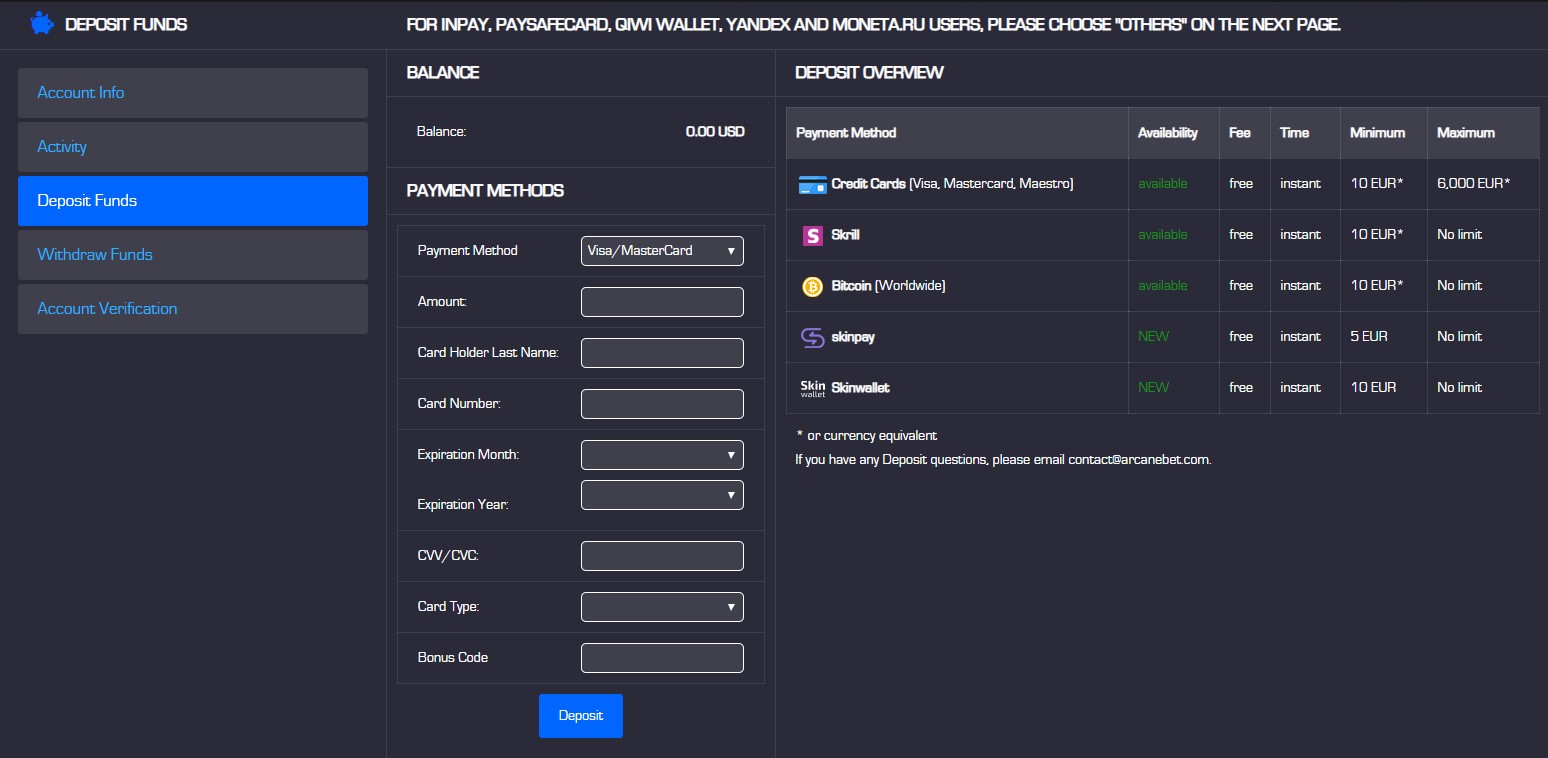 Payment options are one of the most important aspects of a gambling website. They must always consider the fact that most customers will be relying on third-party payment providers and not their banks. This is due to the credit score damage that banking transfers on gambling websites cause. Therefore it is imperative that the website has at least 2 payment options. Luckily for ArcaneBet users, the website has 5:
Visa/Maestro/MasterCard (Min €10 : Max €6,000)
Skrill (Min €10: Max ∞)
Bitcoin (Min €10: Max ∞)
Neteller (Min €10: Max ∞)
Skinpay (Min €10: Max ∞)
Skin wallet (Min €10: Max ∞)
Although it may not look like the most diverse payment options system, it's still beneficial to have a big name there such as Skrill. Furthermore, it's refreshing to see an eSports platform offer Bitcoin payments as well. These payment options are the gateway towards the ArcaneBet no deposit bonus codes or direct acquisition. As the user registers, the platform will suggest depositing a minimum amount and get either the code or the bonus directly. It's important to note that every payment option is processed immediately and does not carry any fees.
What does this ArcaneBet review tell us?
Overall, ArcaneBet has quite a lot of advantages for its users. The biggest strength it has is a large number of games it is able to provide betting options on. Very few platforms can boast more than 10 games, while ArcaneBet features 15.
There is also a major strength in the ArcaneBet live betting option which allows players to place, remove, increase or decrease their bet while the game is in motion. This is able to provide much more control over the profits.
In conclusion, ArcaneBet was able to impress us on every step of the way and is easily a very strong contender in the eSports betting industry.